Overview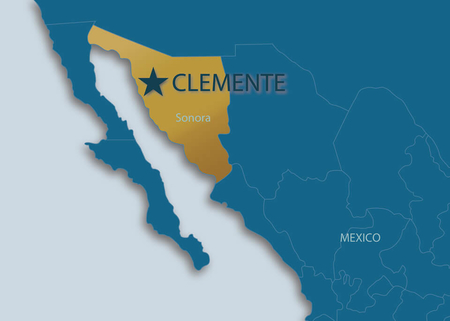 | | |
| --- | --- |
| Commodity: | Gold and Silver |
| Location: | Sonora, Mexico |
| Size: | 17.2 km² |
| Status: | Optioned to Silver Viper Minerals Corp |
The Clemente Project is within close proximity to five gold-silver mines in the region, including the Cerro Colorado Mine only 7 km to the SE. Clemente is centered on the Sonora-Mojave Megashear, a controlling rich belt of orogenic and intrusion related gold and silver deposits approximately 700 km long. The Project has exceptional infrastructure with power, water and road access making the targets easily accessible and cost effective for future drill testing.
Exploration History & Results
Riverside previously conducted an initial field work program that discovered high grade silver exceeding 2 kg/t (60 oz/t) in outcrops. The program consisted of 152 rock chip samples and returned assay values from < 5 g/t up to 2,900 g/t silver, with gold values ranging from 5 ppb up to 5.4 g/t. Multiple samples returned values over 50 g/t silver, which is uncommon for this region of Mexico and indicates a potentially highly significant target.
Two main mineralized zones have been identified at Clemente, known as Nuevo Mundo and El Mundo. A third high potential target called the Santa Elena Target has a magnetic anomaly under shallow cover just north of the high grade gold and silver outcrops.
In October 2017 partner, Silver Viper Minerals drilled nine HQ-size diamond boreholes for a total length of 1,062 meters, with two of the drill-holes intersecting old mine workings and consequently being abandoned. The best mineralized intersection was made by hole CL-17-006; a 0.7 meter long interval that averages 827 g/t silver, 0.23 g/t gold and a combined 2.09 per cent lead-zinc. Future exploration at Clemente could progress with testing of the Santa Elena target located in the south-eastern sector of the Clemente property and 7 km northwest of the Cerro Colorado gold mine of Goldgroup. The Santa Elena target covers an area of at least 150 hectares where there is evidence of artisanal mining for gold and silver but no previous drilling.
Geology
Multiple silver/gold workings are located throughout the property, enabling Riverside geologists to gain a better understanding of mineralization potential and sub-surface geology and alteration. Primary exploration targets adjacent to these abandoned mines show extensive silver mineralization, including a rock chip sample of 2,900 g/t silver.
The Project is dominated by strong hydrothermal alteration, breccias and veining in a basement rock sequence of Precambrian/Cambrian meta-sediments and Precambrian granites that have been multiply sheared with abundant stockwork quartz veining, similar to other areas of the Mojave-Sonora Megashear. Mineralization hosting sediments are primarily dolomites and arenites that have varying extents of alteration suggesting different depths of possible emplacement of mineralization. The Precambrian granites are composed of a 1.8 Ga and a 1.1 Ga suite, reflected in textural variations. These wall rocks act as brittle and locally reactive hosts to epithermal and mesothermal hydrothermal metal bearing fluids that deposited abundant silver along with gold and local base metals.
Qualified Person, QA/QC & Technical Disclosures
Freeman Smith, P.Geo., a non-independent qualified person to Riverside Resources, who is responsible for ensuring that the geologic information provided in this news release is accurate and who acts as a "qualified person" under National Instrument 43-101 Standards of Disclosure for Mineral Projects.