Riverside Resources Samples up to 113 G/T Gold and 310 G/T Silver at The Cecilia Project in Sonora, Mexico
June 6, 2017 – Vancouver, BC: Riverside Resources Inc. ("Riverside" or the "Company") (TSX-V: RRI), is pleased to report initial results from the Company's first-phase exploration program at the Cecilia Project (the "Project")located in northeastern Sonora, Mexico. Riverside's exploration team is targeting epithermal gold-silver mineralization hosted by a felsic volcanic flow-dome complex, which is similar in age and composition to volcanic structures such as the large Pitarrilla and San Julian deposits found in the state of Durango.
The sampling done to date has been concentrated at the North Breccia and Central zones, the two highest priority gold targets presently known on the property (see Figure 1 below). Thirty-three (33) of the 91 samples collected at Cecilia (approximately 36% of the total) yielded gold assays greater than 0.5 g/t gold (Au), with five samples assaying greater than 3 g/t Au. The three best rock-chip assays were 113.7 g/t Au with 288 g/t silver (Ag), 58 g/t Au with 207 g/t Ag and 8.42 g/t Au with 87.8 g/t Ag.
The sampling has also shown that silver mineralization is more strongly developed in the altered rocks than was reported by previous operators. Nineteen (19) of the 91 samples have silver contents greater than 100 g/t Ag, six of these samples yielding assays that were greater than 200 g/t Ag and the maximum silver assay was 310 g/t Ag. The silver-to-gold ratio of the epithermal mineralization appears to increase as mineralized structures are sampled at progressively lower elevations, which is characteristic of some of the major epithermal Ag-Au dome complexes of Mexico.
Riverside's President and CEO, John-Mark Staude, stated: "We are pleased with the consistency and exploration values exceeding previous sampling in these areas on the Cecilia Project. The high-grade gold and silver assays at the North Breccia and Central zones of Cerra Magallanes validates our precious metal flow-dome model and brings us a step closer to a potential discovery. We are in the field continuing exploration at Cecilia and anticipate additional results in the near future as we strive to develop a mineral discovery for our shareholders."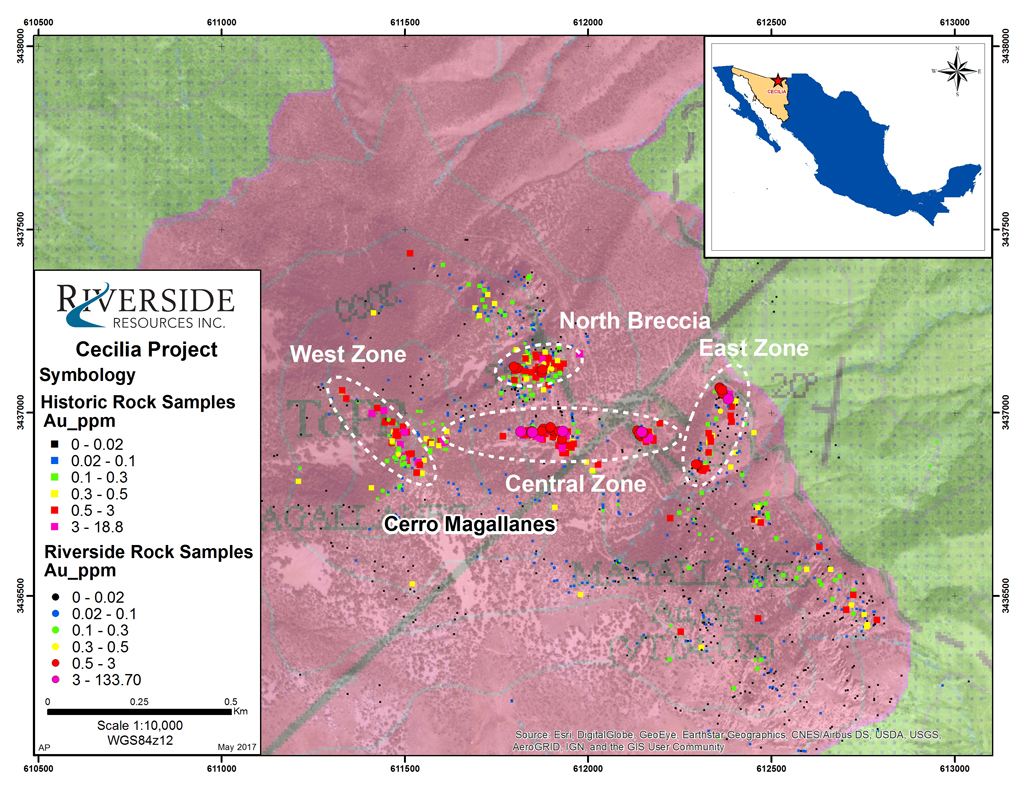 Figure 1: Cecilia with Highlighted Gold Target Areas and Geochemical Results
As can be seen in the district summary map (Figure 1), the Riverside rock-chip samples confirm the existence of gold mineralization in hydrothermally brecciated felsic volcanic rocks of the Cerro Magallanes flow-dome complex.
Additional Details:
One key objective of the ongoing rock-chip sampling program is to confirm the existence of zones of gold-bearing hydrothermal breccias and quartz veinlet stockworks that were previously identified by other exploration groups (refer to Cecilia Project/Project History on the Company's website). In addition, prospecting and rock sampling is being done in adjacent areas not previously sampled. This work is intended to expand beyond the known extents of gold mineralization and to discover new zones, with the ultimate goal of defining high-potential drill targets.
For more information on the Project, please visit the Cecilia Project page on the Company's website: www.rivres.com.
Qualified Person & QA/QC:
The scientific and technical data contained in this news release pertaining to the Cecilia Project was reviewed and approved by Locke Goldsmith, P.Geo, P. Eng, a non-independent qualified person to Riverside Resources, who is responsible for ensuring that the geologic information provided in this news release is accurate and who acts as a "qualified person" under National Instrument 43-101 Standards of Disclosure for Mineral Projects.
The rock chip samples collected by Riverside's field crew at the Cecilia Project were taken from thirty-two separate bedrock outcroppings on the eastern slope of the prominent mount of Cerro Magallanes, with the majority of individual samples consisting of composites of bedrock fragments hammer-chipped from 1.1 to 3.1 metre long intervals across rock faces showing evidence of hydrothermal brecciation and silicification. The two highest grade samples which assayed 113.7 and 58.0 g/t Au are select grab samples of loose quartz vein rock found on the waste-rock dumps of two small underground workings which are believed to date back to the 1940's. The two grab samples are not representative of the mineralization that was chip-sampled from actual outcrops, however, they do support Riverside's view that the Cecilia property has excellent potential for the discovery of epithermal quartz veins hosting gold and silver mineralization of the low-sulphidation type. All of Riverside's rock samples were analyzed at the Hermosillo and Vancouver laboratories of Bureau Veritas where gold content was determined by fire assaying with atomic adsorption finish and ICP-mass spectrometry was used to analyze for 45 other elements. For quality control purposes, three standard samples and one 'blank' sample were included with the batch of 91 field samples.
About Riverside Resources Inc.:
Riverside is a well-funded prospect generator exploration company that leverages its 77,000 location mineral database, highly experienced and dedicated technical team and partnership network to acquire and develop high-potential projects. The Company increases the chances of discovery by advancing multiple assets simultaneously through partnerships, allowing Riverside to mitigate risk and conserve capital. Riverside has a diverse portfolio of gold, silver and copper properties throughout North America. The Company has approximately 44 million shares outstanding, and approximately $5,500,000 in cash and no debt. Riverside has additional properties available for option with more information available on the Company's website at www.rivres.com.
ON BEHALF OF RIVERSIDE RESOURCES INC.
"John-Mark Staude"

Dr. John-Mark Staude, President & CEO
For additional information contact:
Certain statements in this press release may be considered forward-looking information. These statements can be identified by the use of forward looking terminology (e.g., "expect"," estimates", "intends", "anticipates", "believes", "plans"). Such information involves known and unknown risks -- including the availability of funds, the results of financing and exploration activities, the interpretation of exploration results and other geological data, or unanticipated costs and expenses and other risks identified by Riverside in its public securities filings that may cause actual events to differ materially from current expectations. Readers are cautioned not to place undue reliance on these forward-looking statements, which speak only as of the date of this press release.
Neither the TSX Venture Exchange nor its Regulation Services Provider (as that term is defined in the policies of the TSX Venture Exchange) accepts responsibility for the adequacy or accuracy of this release.