Riverside Signs Option To Acquire New Gold Project in Sonora, Mexico
March 25, 2015 – Vancouver, BC: Riverside Resources Inc. ("Riverside" or the "Company") (TSX-V: RRI), is pleased to announce that it has signed an option agreement with Argonaut Gold Inc. ("Argonaut") to acquire a 100% interest in the Glor Gold Project (the "Project"), located approximately 8 km west of AuRico's El Chanate Mine in Sonora, Mexico. The Project acquisition and initial mapping and sampling work was completed as part of alliance funded activities through Riverside's strategic alliance with Hochschild Mining Plc. (the "Alliance").
Mineralization on the Glor Project is widespread with indications of high-grade gold-bearing quartz veins, as evidenced by initial field check sampling and mapping, which returned assays from <0.005 g/t Au up to 18.9 g/t Au. A total of 155 rock chip samples have been collected to-date, returning an average grade of 0.52 g/t Au. There appears to be good potential for high-grade and bulk tonnage type gold discoveries, with geologic similarities to the nearby El Chanate Mine. Six prospective targets have already been identified on the Project through Riverside's generative exploration work. The Project is accessed by paved highway and a network of gravel roads that make reaching the various targets highly cost-effective to explore.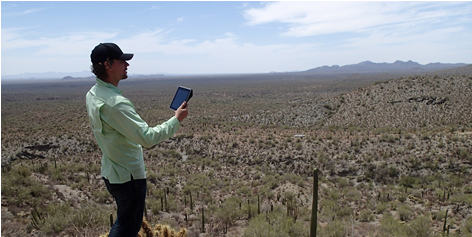 Pictured above: Riverside's VP, Corporate Development, Joness Lang, visits Glor Project with exploration team
Riverside's President and CEO, John-Mark Staude, stated: "We are pleased to add another key piece of well mineralized ground and set of targets to Riverside's Sonora Mega-shear portfolio, and look forward to further work and results from the Company's programs in NW Mexico."
Project Details:
The Glor Project was previously owned by Pediment Gold, which completed geologic mapping, rock sampling, and soil sampling. Pediment's soil sampling showed several gold and trace-element anomalies coincident with surface alteration, with rock chip samples returning assays from lower detection limits up to 15.3 g/t gold. In 2011, Argonaut Gold bought Pediment Gold, acquiring Glor in the process. Riverside will now look to build on past work and refine the target areas to focus in on the best discovery opportunities on the Project.

Thrust faults, shear zones, vein orientations, and magnetic lineaments that run parallel with the documented regional controls on mineralization have been observed during initial visits to the Project. Field work has identified at least one NNW-striking, previously unmapped thrust fault that appears to be parallel to the El Chanate Fault that controls mineralization at the El Chanate Mine. Riverside's field work to date has also identified several large-scale shear zones, up to 300 metres in thickness­, which appear to be part of the complex structural framework hosting mineralization on the Project.
Option Terms:
Riverside can acquire a 100% interest in the Project by completing CAD$2,500,000 in total exploration expenditures on the Project and making CAD$162,500 in total cash/share payments within five (5) years of the effective date, as detailed below:
| | | |
| --- | --- | --- |
| To Earn 100% Interest* | Cash Payments | Exploration Expenditures |
| On Signing | $12,500 | |
| Year 1 | Nil | $125,000** |
| Year 2 | $25,000 | $300,000 |
| Year 3 | Nil | $500,000 |
| Year 4 | $25,000*** | - |
| Year 5 | $100,000*** | $1,575,000 |
*Argonaut to retain a 1% NSR of which half (0.5%) can be repurchased.
**First year exploration amount is a firm commitment
***Fifty percent (50%) of payments on or before the fourth and fifth anniversaries can be paid in Riverside shares at the Company's election.
As per Riverside's Alliance Agreement (see press release April 15, 2013), Hochschild can fund exploration work and make a one-time cash payment to Riverside to earn a 65% interest in any project acquired under the terms of the Alliance.
Qualified Person and QA/QC:
The scientific and technical data contained in this news release pertaining to the recently acquired Glor Project was reviewed and prepared under the supervision of Riverside's VP Exploration, Greg Myers, PhD, PGeo, a non-independent qualified person to Riverside Resources who is responsible for ensuring that the geologic information provided in this news release is accurate and acts as a "qualified person" under National Instrument 43-101 Standards of Disclosure for Mineral Projects.

About Riverside Resources Inc.:
Riverside is a well-funded prospect generation team of focused, proactive gold discoverers. The Company currently has more than $3,000,000 in the treasury and approximately 37,000,000 shares outstanding. The Company's model of growth through partnerships and exploration uses the prospect generation business approach to own resources, while partners share in de-risking projects on route to discovery. Riverside has additional properties available for option with more information available on the Company's website at www.rivres.com.
ON BEHALF OF RIVERSIDE RESOURCES INC.
"John-Mark Staude"

Dr. John-Mark Staude, President & CEO
For additional information contact:
John-Mark Staude

President & CEO
Riverside Resources Inc.
This email address is being protected from spambots. You need JavaScript enabled to view it.
Phone: (778) 327-6671
Fax: (778) 327-6675
Web: www.rivres.com

Joness Lang

VP, Corporate Development

Riverside Resources Inc.
This email address is being protected from spambots. You need JavaScript enabled to view it.
Phone: (778) 327-6671
TF: (877) RIV-RES1
Web: www.rivres.com
Neither the TSX Venture Exchange nor its Regulation Services Provider (as that term is defined in the policies of the TSX Venture Exchange) accepts responsibility for the adequacy or accuracy of this release.