Riverside Resources And Alliance Partner Antofagasta Commence Drilling At The Swift Katie Porphyry Copper Project In British Columbia, Canada
September 2, 2014 – Vancouver, BC: Riverside Resources Inc. ("Riverside" or the "Company") (TSX-V: RRI) is pleased to announce that drilling has commenced on the Swift Katie Project (the "Project") located in southeastern BC. Drilling will focus on the newly identified "Swift" porphyry target. Historic drilling in the Swift area targeted precious metal veins, but Swift has never been explored as a porphyry copper target. During 2013 and 2014, Riverside completed a soil sampling program, identifying geochemical anomalies (copper, gold, silver and potassium) within anomalous resistivity and magnetic signatures. These geophysical and geochemical anomalies are coincident with host rocks which are of a prospective age and lithology for hosting mineralization. The Swift target lies immediately south of the Katie deposit which hosts alkalic porphyry copper-gold mineralization. Alkalic porphyry mineralization commonly occurs in clusters, thus the Swift area presents a compelling new target (see Figure 1 below under Project Details).
Riverside's 1,150-metre reconnaissance diamond drilling program is now underway, testing targets within a 2km by 2km multi-element set of soil anomalies coincident with a circular low resistivity feature, suggestive of porphyry-style alteration. The program will consist of 4 drill holes, drilled to a depth of at least 275m, and will aim to prove that porphyry-style mineralization and alteration at the Swift target does exist at depth. Confirmation of a porphyry system would encourage a follow-up phase of exploration and likely further drilling. Results will be released once all assays have been received and interpreted.
Riverside's President and CEO, John-Mark Staude, stated: "We are delighted to begin drilling in British Columbia (BC) and look forward to expanding on historic and known mineralization at the Swift Katie copper-gold district. We believe there is plenty of exploration upside in the prospective corridor at Swift Katie, and testing this potential through a fully partner-funded drill program provides our shareholders with a low-cost opportunity to discover a major copper-gold asset in BC."
Riverside Resources (BC) Inc., a wholly owned subsidiary of Riverside, signed an Earn-in Agreement with Valterra Resource Corporation ("Valterra"), for the exclusive right and option to acquire an undivided 80% interest in the Swift Katie Project by incurring cumulative exploration expenditures of $5 million over four (4) years. This agreement is undertaken as part of Riverside's exploration alliance with a wholly-owned subsidiary of Antofagasta plc ("Antofagasta"). For more information on the agreement or Riverside's strategic partnerships please visit the Company website at www.rivres.com.
Swift Katie Project Details:
The Project is located within the well-mineralized Quesnel Terrane, in a geologically favourable area of south-eastern British Columbia that historically has hosted several important mining camps. Three main outcropping mineralized areas have been delineated on the Project and for many years they were each explored separately in claims with different ownership. The claims were amalgamated into a single property for the first time by Valterra, and Riverside was then able to work with Antofagasta to complete an option on the consolidated land package.
There have been numerous geological, geochemical and geophysical surveys completed on the Property with some of the most significant work funded by subsidiaries of Noranda and Falconbridge in the 1980s-90s. These programs identified several exploration targets, with the most advanced prospect being the Katie deposit, an alkalic copper-gold porphyry deposit which has been tested by 71 drillholes to date and remains open in several directions. Historic drilling at the Katie occurrence covers an approximately 2.5km x 1.5km area with several untested soil, IP, magnetic and resistivity anomalies in close proximity to known mineralization.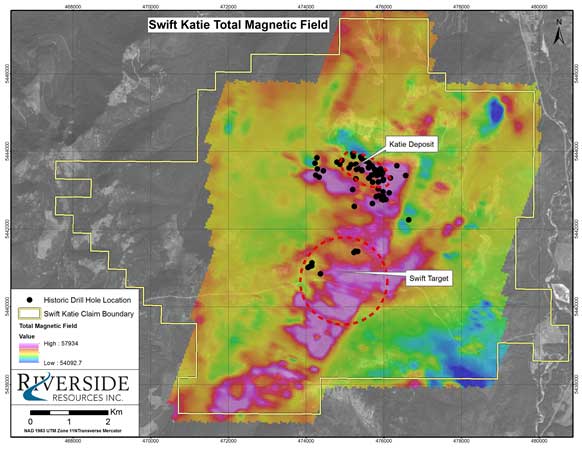 Figure 1: Airborne Magnetics at the Swift Katie Project
At a district-scale, the Project covers an 11km by 3km trend – as seen in airborne magnetics above – that remains virtually unexplored (outside of the Katie occurrence) for copper-porphyry targets to date and hosts significant exploration potential for new discoveries. The Project is located in an infrastructure-rich area of southern BC (roads, rail, power, and proximity to the Trail smelter), where a milder climate allows for a long field season, and extensive road networks allow for low-cost exploration.
Qualified Person and QA/QC:
The scientific and technical data contained in this news release pertaining to the Swift Katie Project was reviewed by Danette Schwab, P.Geo - Project Manager, a non-independent qualified person to Riverside Resources, who is responsible for ensuring that the geologic information provided in this news release is accurate and who acts as a "qualified person" under National Instrument 43-101 Standards of Disclosure for Mineral Projects.
About Riverside Resources Inc.:
Riverside is a well-funded prospect generation team of focused, proactive precious and base metal discoverers with the breadth of knowledge to dig much deeper. The Company currently has more than $4,000,000 in the treasury and approximately 37,000,000 shares outstanding. The Company's model of growth through partnerships and exploration uses the prospect generation business approach to own resources, while partners share in de-risking projects en route to discovery. Riverside has additional properties available for option with more information available on the Company's website at www.rivres.com.
ON BEHALF OF RIVERSIDE RESOURCES INC.

"John-Mark Staude"
Dr. John-Mark Staude, President & CEO
For additional information contact:
John-Mark Staude

President & CEO
Riverside Resources Inc.
This email address is being protected from spambots. You need JavaScript enabled to view it.
Phone: (778) 327-6671
Fax: (778) 327-6675
Web: www.rivres.com

Joness Lang

VP, Corporate Development

Riverside Resources Inc.
This email address is being protected from spambots. You need JavaScript enabled to view it.
Phone: (800) RIV-RES1
Fax: (778) 327-6675
Web: www.rivres.com
Neither the TSX Venture Exchange nor its Regulation Services Provider (as that term is defined in the policies of the TSX Venture Exchange) accepts responsibility for the adequacy or accuracy of this release.