OVERVIEW
The Thor Copper Project is located within the Arizona - Sonora Copper Mining Belt, which is host to over 40 major Cu-Mo porphyry deposits, including in Mexico the world-class, Cananea and La Caridad copper mines currently being operated by Grupo Mexico. The Thor property was acquired for its extensive color and associated geochemical anomalies, interpreted by Riverside to represent the basal portions of an eroded porphyry-related lithocap making it the prime target for a new significant copper discovery. This part of Sonora is rich in copper potential and has had extensional tectonics that provide a potential for shallow, open pit discoveries under pediment that could possibly be unrecognized due to post-mineral faulting as Riverside's President, John-Mark Staude, described in his 1995 PhD doctorate thesis on the mineralization in Sonora, Mexico.
The 128 sq km Thor Project is located 130 km SW of the La Caridad Mine (1,800 Mt @ 0.45% Cu, 0.02% Mo) and has good access via paved highways from the city of Hermosillo and the nearby town of Ures, Sonora. An electrical power-line and a source of water are nearby. Riverside has developed positive working relationships with the local community and ranchers that has facilitated our exploration activities on the property.
Riverside controls 100% of the Thor mineral concession and has completed an initial four hole drill program into one of the six target areas with funding from Antofagasta Minerals. The results from this initial 1,400 metre diamond core drilling program were positive for finding a porphyry system and now point toward further target testing and follow up of other targets. Drill cores and all other exploration data generated to date, including Aster image analysis, ground magnetics surveying, petrographic and geochronology studies are available for review by interested parties. Riverside has already used this information to outline six targets which warrant further exploration, including drilling.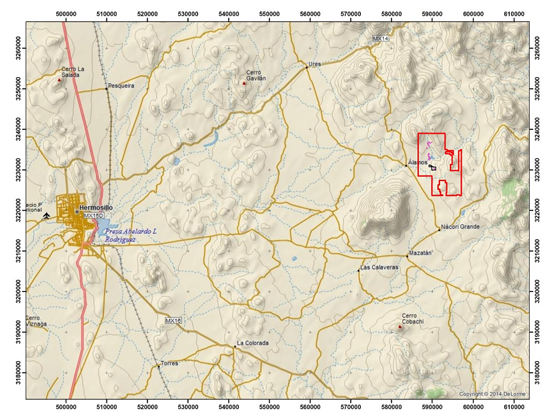 Figure 1. Regional map showing location of the Thor property, Sonora, Mexico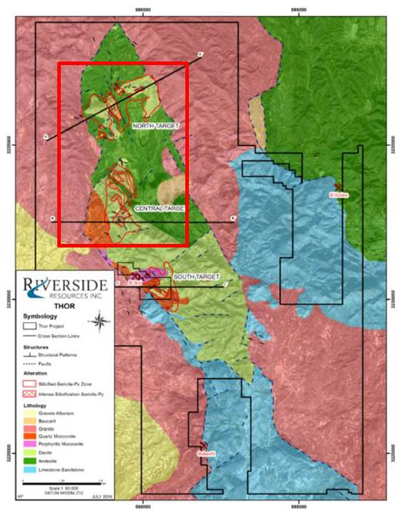 Figure 2. Thor Project geology map showing alteration zones and target areas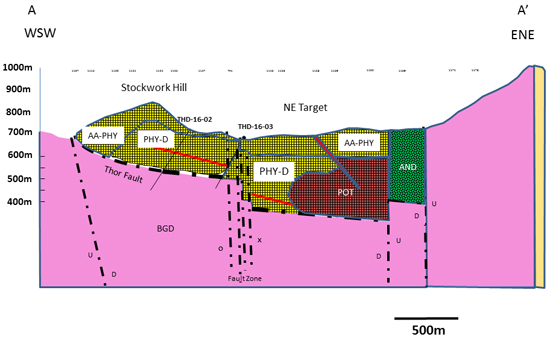 Figure 3. Cross-section through North Target showing interpreted geology (refer to Figure 2 for location of section). Section depicts a porphyry-related, zoned alteration system that has been tilted to the west. The copper deposit target is represented by the potassic alteration zone that potentially exists hundreds of metres east of 2017 drill-holes.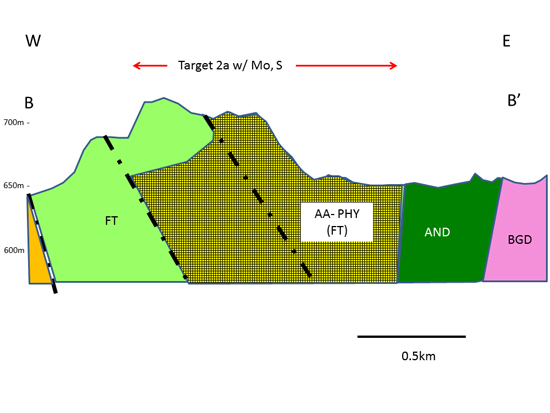 Figure 4. Undrilled porphyry copper - drill ready target
Geology
The Thor project is located at the southern end of the Aconchi Batholith Complex, which is composed of several intrusive phases of both Laramide (65 to 55 Ma) and post-Laramide (42-36 Ma) ages. About 15 km to the southwest is the Mazatan Metamorphic Core Complex, comprising Paleozoic and older rocks that display ductile and brittle-ductile structural features similar to those found in the Catalina Core Complex, located north of Tucson, Arizona around a cluster of copper mines in Arizona. The Mazatan Core Complex was formed approximately at the same time as the Basin and Range extensional geomorpho-tectonic province of Southwestern U.S.A. and Northwestern Mexico. Pronounced tilting of structural blocks and rotation of normal faults are a characteristic feature of the Basin and Range province and have been observed on the Thor property. Recognition of such structural features has enabled Riverside geologists to define high-potential copper porphyry targets that are ready for drilling.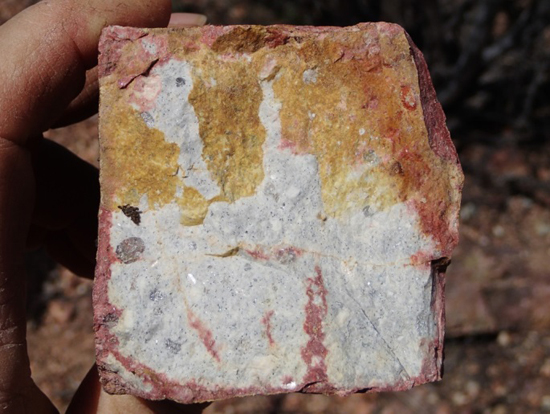 Image 1. Quartz eye rhyolite porphyry from Thor project with sericitic alteration typical of upper lateral levels of a porphyry system. Red hematite and jarosite iron oxides from weathering of sulfides and hydrothermally destroyed mafic minerals.
In the project area the central portion of the Aconchi batholith complex has been affected by extensional faults that have formed a NNW-oriented, 15 km long by 1.5 to 3.5 km wide graben structure. Upper Cretaceous-Paleocene felsic and intermediate volcanic rocks along with Paleozoic carbonate and siliciclastic sedimentary rocks exist within the limits of the graben. The volcanic rocks occur in the northern part of the down-faulted block, while the older sedimentary rocks are exposed more in the south where deeper erosion has occurred. Both rock sequences have stratigraphic equivalents that host porphyry copper deposits elsewhere in the Arizona-Sonora mineral province. The geology and working environment are positive for making a near term mineral discovery at Thor.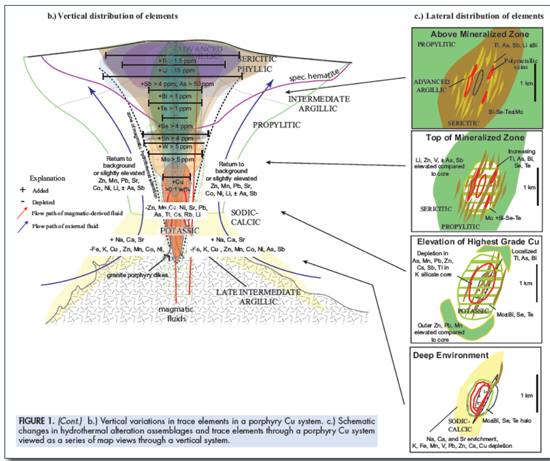 Figure 5. Schematic geochemical and alteration features for an idealized porphyry copper system by Scott Halley. At Thor Riverside sees features indicative of the upper zones of this schematic model.
Qualified Person, QA/QC
The scientific and technical data pertaining to the Thor Project was reviewed and approved by Freeman Smith, P.Geo., a non-independent qualified person to Riverside Resources, who is responsible for ensuring that the geologic information provided in this news release is accurate and who acts as a "qualified person" under National Instrument 43-101 Standards of Disclosure for Mineral Projects.