Riverside Consolidates the Union Project Area with Acquisition of the Past-Producing Union Mine
Vancouver, British Columbia--(Newsfile Corp. - March 1, 2023) - Riverside Resources Inc. (TSXV: RRI) (OTCQB: RVSDF) (FSE: 5YY) ("Riverside" or the "Company"), is pleased to announce that it has signed an Option Agreement (the "Agreement") to acquire a 100% undivided right, title and interest in the Union Mine, within the Union District of Sonora, Mexico. This district has historically produced high-grade zinc, gold and silver in carbonate replacement deposits ("CRD"), which is a significant style of deposit forming major mines in northern Mexico and the southwest USA. The Union Mine historically produced ~50,000 ounces of gold ("Au") from the upper oxide zones of manto and chimney bodies according to past reports. The potential for further expansion through a focused exploration is wide open along strike and at depth for both oxide and into sulfide ore targets.
This specific tenure, located within the Company's 100%-owned Union Project, has been of interest to Riverside for several years and this Agreement finally consolidates this key inlier ground. The Union Mine property is in good standing with established infrastructure, surface access, and the opportunity to complete option purchase for 100% interest in these claims provides the Company with a clear path to start testing priority targets across the consolidated land package in this district.
Riverside's President and CEO, John-Mark Staude, stated: "Riverside is excited to be progressing the Union District and this deal consolidates the heart of the broader Union Project, giving us line of sight towards 100% ownership. We believe there is excellent potential to extend mineralization beyond the areas that were historically mined at Union and Union Norte. Controlling the historical mine areas and local infrastructure puts us in a position to move ahead more aggressively with other discovery targets within the surrounding areas as well."
Agreement Details:
Riverside paid USD$170,000 and can complete its earn-in to own an undivided 100% interest by making a second payment of USD$100,000 any time within 60 months of signing the Agreement.
Upon completion of the earn-in, a 1.25% Net Smelter Royalty ("NSR") will be retained by the underlying owner.
Riverside can purchase ("buy back") 0.25% increments of the NSR for USD$250,000 each at any time.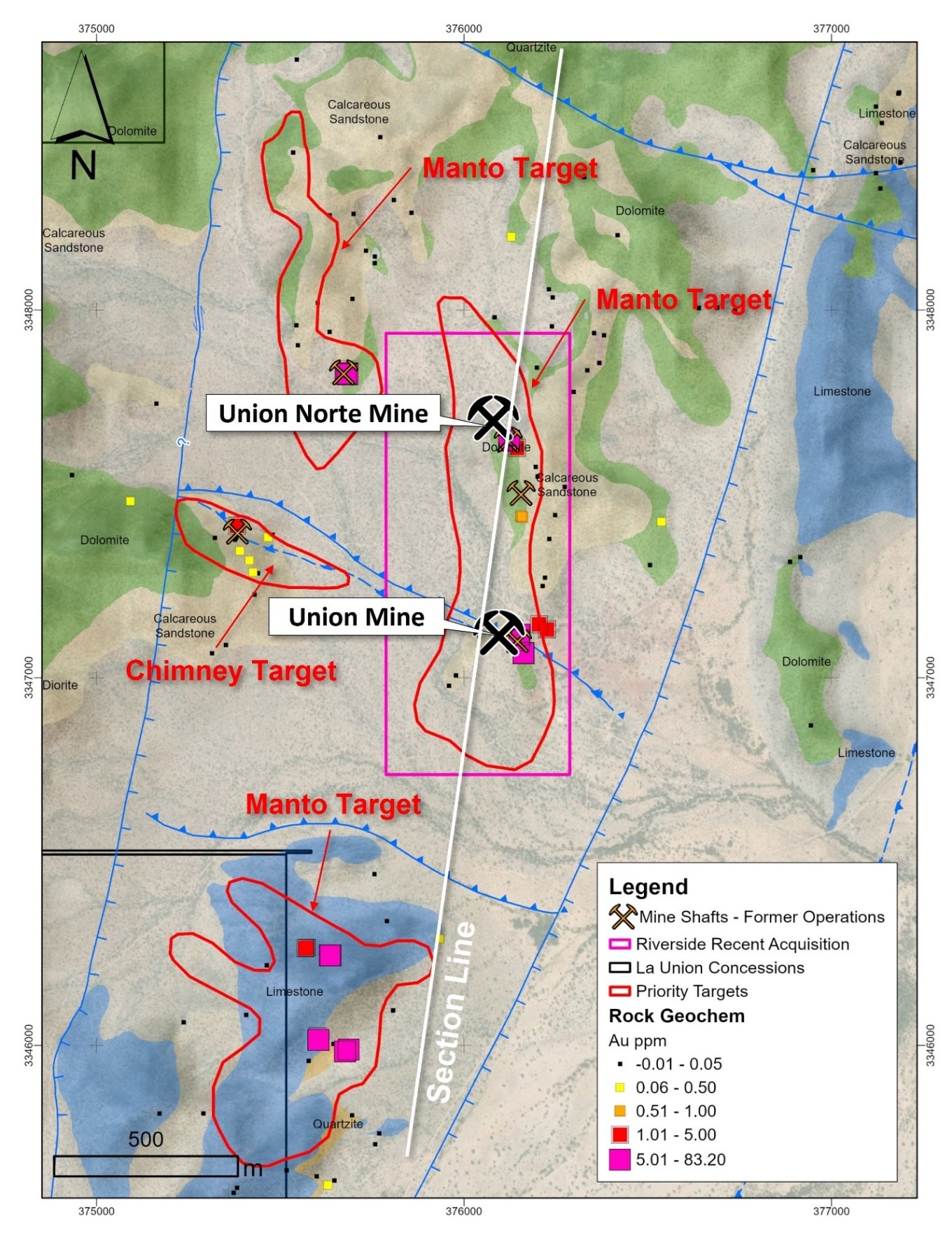 Figure 1. Geologic map with the tenure acquired in new Agreement shown in pink rectangle with manto and chimney type CRD targets shown in red polygons. Riverside now controls all mineral tenure in this map.
To view an enhanced version of this graphic, please visit:
https://images.newsfilecorp.com/files/6101/156677_73e9c74b44a70bdd_002full.jpg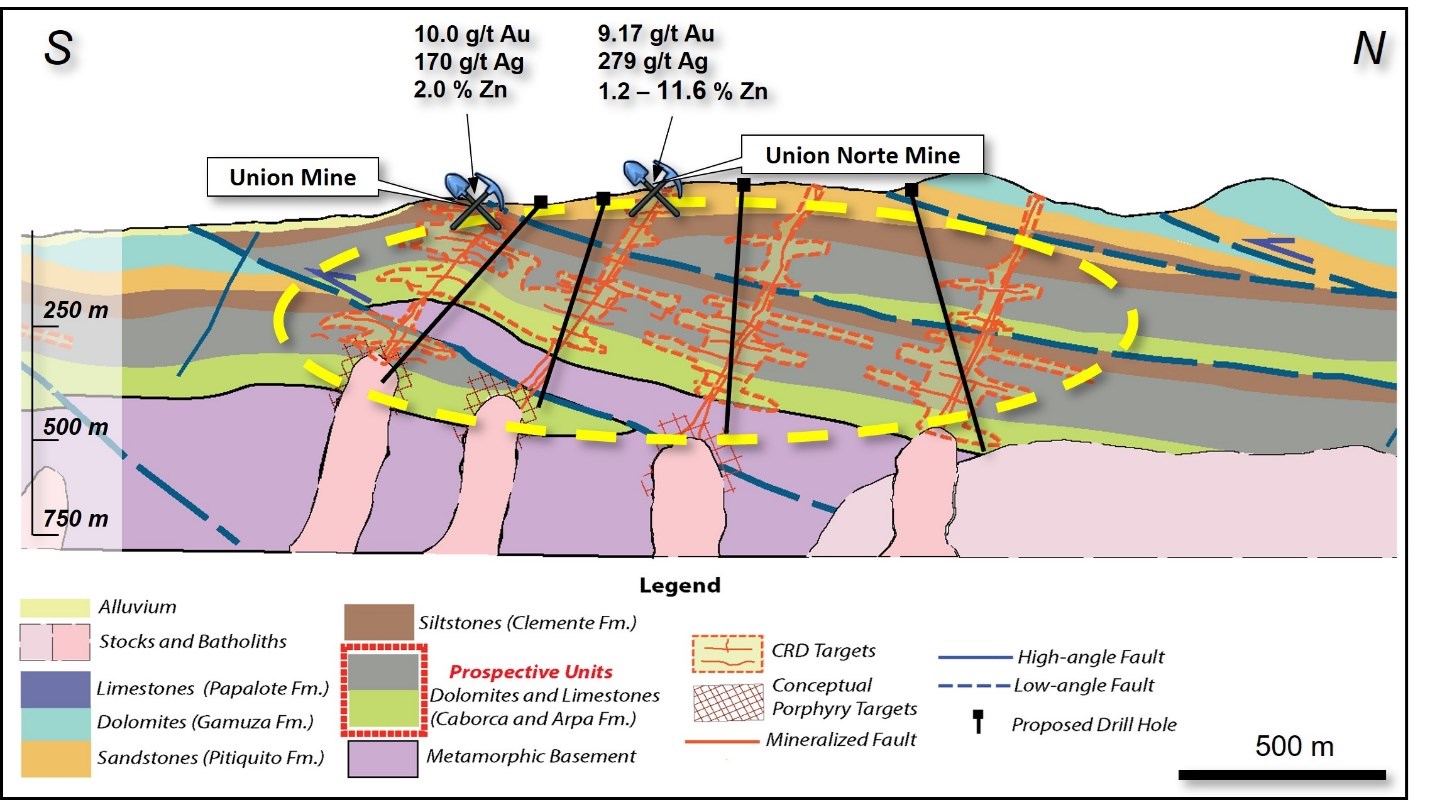 Figure 2. Cross section looking west with proposed drill sites and hole traces. Assays from Riverside's sampling of rock dump materials from the two mine areas are labeled in black. Red areas are interpreted manto and chimney target bodies that will now be able to drill explore.
To view an enhanced version of this graphic, please visit:
https://images.newsfilecorp.com/files/6101/156677_73e9c74b44a70bdd_003full.jpg
Recent work by Riverside, announced earlier for the tenures around the Union Mine ground, returned high grade assays from rock chip sampling and identified favorable structures (see press release October 3, 2022) The next phase of proposed work on this land tenure includes ground-based geophysics building upon previous work to further refine the larger structures likely responsible for the carbonate replacement bodies similar to those found in the Cananea Mining district (including Buenavista Mine), Sonora and the Sierra Vista Mining district (Taylor and other deposits), Arizona. Drill permitting is now underway and the Company views the consolidated Union Project as one of the Company's lead assets and will move to rapidly refine targets for drilling later this year.
Qualified Person & QA/QC:
The scientific and technical data contained in this news release pertaining to the La Union Project was reviewed and approved by Julian Manco, P.Geo, a non-independent qualified person to Riverside Resources focusing on the work in Sonora, Mexico, who is responsible for ensuring that the information provided in this news release is accurate and who acts as a "qualified person" under National Instrument 43-101 Standards of Disclosure for Mineral Projects.
Rock samples from the exploration program discussed above at the La Union Project were taken to the Bureau Veritas Laboratories in Hermosillo, Mexico for fire assaying for gold. The rejects remained with Bureau Veritas in Mexico while the pulps were transported to Bureau Veritas laboratory in Vancouver, BC, Canada for 45 element ICP/ES-MS analysis using 4-acid digestion methods. A QA/QC program was implemented as part of the sampling procedures for the exploration program. Standard samples were randomly inserted into the sample stream prior to being sent to the laboratory.
About Riverside Resources Inc.:
Riverside is a well-funded exploration company driven by value generation and discovery. The Company has over $8M in cash, no debt and less than 80M shares outstanding with a strong portfolio of gold-silver and copper assets and royalties in North America. Riverside has extensive experience and knowledge operating in Mexico and Canada and leverages its large database to generate a portfolio of prospective mineral properties. In addition to Riverside's own exploration spending, the Company also strives to diversify risk by securing joint-venture and spin-out partnerships to advance multiple assets simultaneously and create more chances for discovery. Riverside has properties available for option, with information available on the Company's website at www.rivres.com.
ON BEHALF OF RIVERSIDE RESOURCES INC.
"John-Mark Staude"

Dr. John-Mark Staude, President & CEO
For additional information contact:
John-Mark Staude
President, CEO
Riverside Resources Inc.
This email address is being protected from spambots. You need JavaScript enabled to view it.
Phone: (778) 327-6671
Fax: (778) 327-6675
Web: www.rivres.com
Mehran Bagherzadeh
Corporate Communications
Riverside Resources Inc.
This email address is being protected from spambots. You need JavaScript enabled to view it.
Phone: (778) 327-6671
TF: (877) RIV-RES1
Web: www.rivres.com
Certain statements in this press release may be considered forward-looking information. These statements can be identified by the use of forward-looking terminology (e.g., "expect"," estimates", "intends", "anticipates", "believes", "plans"). Such information involves known and unknown risks -- including the availability of funds, the results of financing and exploration activities, the interpretation of exploration results and other geological data, or unanticipated costs and expenses and other risks identified by Riverside in its public securities filings that may cause actual events to differ materially from current expectations. Readers are cautioned not to place undue reliance on these forward-looking statements, which speak only as of the date of this press release.
Neither the TSX Venture Exchange nor its Regulation Services Provider (as that term is defined in the policies of the TSX Venture Exchange) accepts responsibility for the adequacy or accuracy of this release.