Riverside Completes Helicopter Magnetics Survey On The Duc Project, Progressing District Targeting In The Wawa Subprovince Of Ontario
June 1, 2023 – Vancouver, BC: Riverside Resources Inc. ("Riverside" or the "Company") (TSX-V: RRI) (OTCQB: RVSDF) (FSE: 5YY), is pleased to announce it has completed an airborne geophysical helicopter magnetics survey on the Duc Project in northwestern Ontario progressing this important project in Riverside's Canada portfolio. The Duc Project is located south of the town of Kapuskasing in the highly prospective Porcupine Mining District, which hosts a number of orogenic gold deposits and critical metals projects. Magnetics is a well-established method for defining geological boundaries and delineating geological structures, particularly faults and shears, which are typically the host for precious metal mineralization and showing features typical of critical metals exploration in this part of the greenstone belt.
The magnetic results are interpreted to show two major parallel shears that extend north-easterly through the central part of the Duc Project with the magnetic high defining the mafic rocks which have iron that can be part of a catalyst for gold and critical metals deposition. The compilation of magnetic data and existing geochemistry from past drilling and sampling demonstrates potential scale and prospectivity for near surface mineralization continuing downward and eastward. This new survey helps to refine areas for more detailed Induced Polarity (IP) geophysics surveys which will be evaluated during this upcoming field season. IP is an excellent method to delineate sulphide mineralization and help vector in on drill targets. Specifically, the survey focuses on targeting boundary areas and favorable geological features.
Riverside's President and CEO, John-Mark Staude stated: "The Magnetics survey has highlighted multiple areas of interest and suggests historical work overlooked a significant opportunity within the central part of the Project. As most of the terrain is thinly covered by glacial till, this survey provides us with valuable data that will be incorporated into our exploration models and support next steps as we progress further at Duc."
Summary of Results and Technical Observations
The Project is underlain by an Archean-aged metavolcanic and metasedimentary suite consisting of greywacke, arkose, and iron formation. To the west and north the terrain is underlain by east-west striking metasedimentary schists and mafic metavolcanic flows belonging to the Quetico Subprovince. The south and east areas of the Project are underlain by a black, medium-grained rock described as peridotite by previous explorers and is a greenstone unit which can be a favorable reactive host rock. The boundary between is a highly prospective geologic boundary that could host major mineralization potential. Peridotite igneous rock is important because it can host platinum group elements (PGE) mineralization and is a critical metal which previous drilling found and now this survey shows Riverside has a large volume that is prospective from this magnetic work. There are several significant structures and geological contacts that are highlighted in the survey. Past basal till drilling and diamond drilling suggests there are a several fault-bounded units striking northeast within the Project area and are highlighted by the survey. These parallel northeast trending fault structures, which include the Rufus Lake and Lepage faults, have been shown to host gold mineralization in the district and represent a key target element for this Project.
The Company originally considered conducting ground-based geophysics, however SHA Geophysic's Heli-3G technology provides excellent results and is significantly less expensive than a ground survey. Detailed geological mapping and induced polarization (IP) surveys over the peridotite and fault bounded units are the most likely next follow-up exploration steps to refine priority drill targets.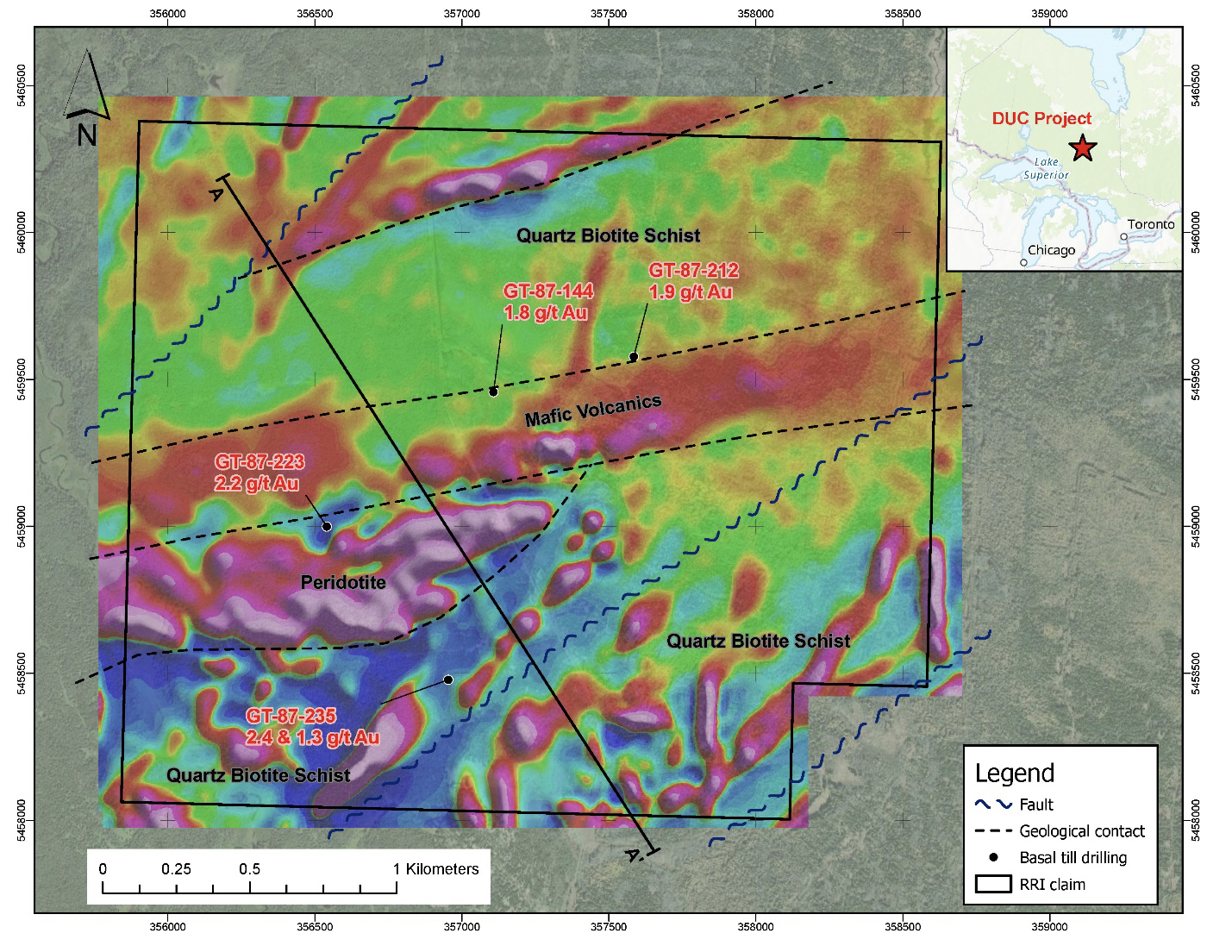 Figure 1: First Vertical Derivative, Heli-3G magnetics survey with interpreted geology and cross section line.
Magnetic Survey
The survey was conducted by SHA Geophysics using their Heli-3G, 3-axis magnetic gradiometer system completing line spacing of 75m and a total of 112-line kilometers of survey. This type of helicopter survey uses SHA's latest technology and sensors to get clean and consistent data.
The vertical gradient accentuates shorter wavelengths and attenuates longer wavelengths. As a result, the map enhances the anomalies associated with small near-surface magnetic sources while suppressing large-scale regional variations. The vertical gradient presentation provides added visual detail, particularly for small anomalies superimposed on or adjacent to larger anomalies.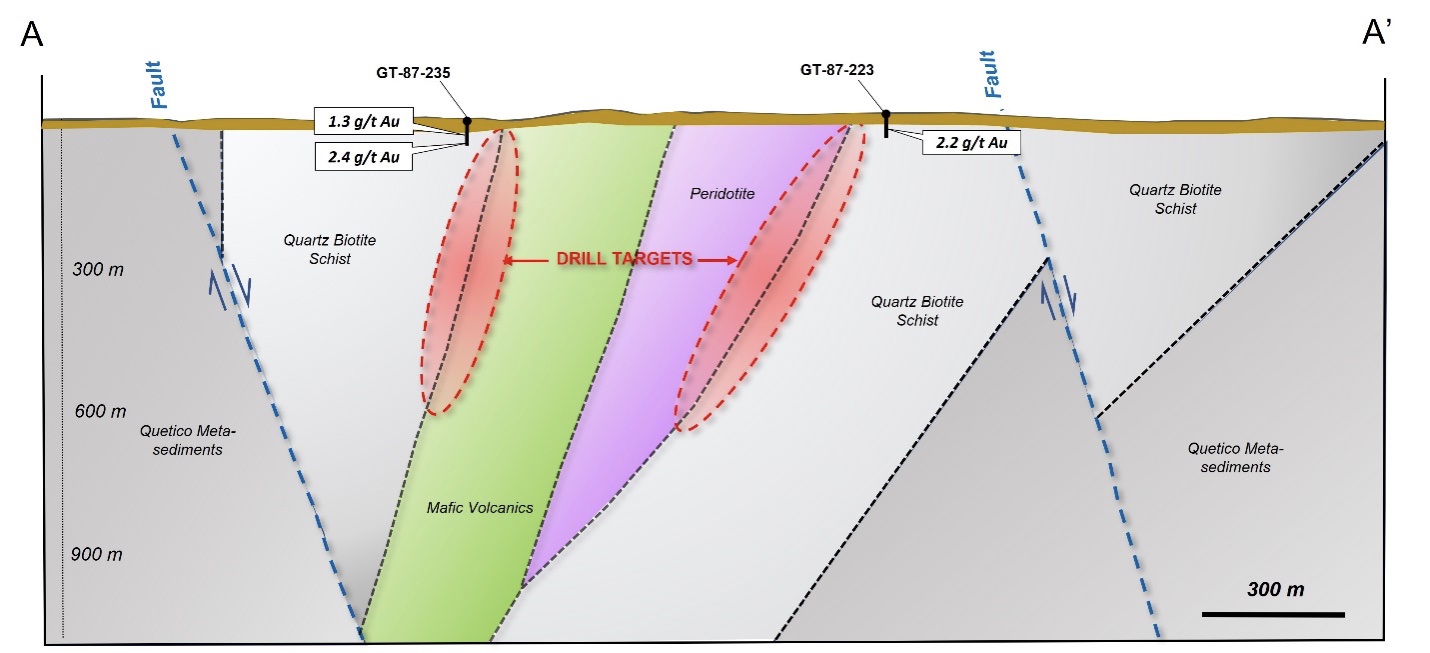 Figure 2: Simplified cross section based on the new magnetics data and preliminary mapping. Drill holes are 200 meters west of section line and projected in with their gold values as previously disclosed.
Qualified Person (QP):
The scientific and technical data contained in this news release was reviewed and approved by Freeman Smith, P.Geo, a non-independent qualified person to Riverside Resources, who is responsible for ensuring that the geologic information provided within this news release is accurate and who acts as a "qualified person" under National Instrument 43-101 Standards of Disclosure for Mineral Projects.
About Riverside Resources Inc.:
Riverside is a well-funded exploration company driven by value generation and discovery. The Company has over $8M in cash, no debt and less than 75M shares outstanding with a strong portfolio of gold-silver and copper assets and royalties in North America. Riverside has extensive experience and knowledge operating in Canada and Mexico and leverages its large databases to generate a portfolio of prospective mineral properties. In addition to Riverside's own exploration spending, the Company also strives to diversify risk by securing joint-venture and spin-out partnerships to advance multiple assets simultaneously and create more chances for discovery. Riverside has properties available for option, with information available on the Company's website at www.rivres.com.
ON BEHALF OF RIVERSIDE RESOURCES INC.
"John-Mark Staude"

Dr. John-Mark Staude, President & CEO
For additional information contact:
John-Mark Staude
President, CEO
Riverside Resources Inc.
This email address is being protected from spambots. You need JavaScript enabled to view it.
Phone: (778) 327-6671
Fax: (778) 327-6675
Web: www.rivres.com
Mehran Bagherzadeh
Corporate Communications
Riverside Resources Inc.
This email address is being protected from spambots. You need JavaScript enabled to view it.
Phone: (778) 327-6671
TF: (877) RIV-RES1
Web: www.rivres.com
Certain statements in this press release may be considered forward-looking information. These statements can be identified by the use of forward-looking terminology (e.g., "expect"," estimates", "intends", "anticipates", "believes", "plans"). Such information involves known and unknown risks -- including the availability of funds, the results of financing and exploration activities, the interpretation of exploration results and other geological data, or unanticipated costs and expenses and other risks identified by Riverside in its public securities filings that may cause actual events to differ materially from current expectations. Readers are cautioned not to place undue reliance on these forward-looking statements, which speak only as of the date of this press release.
Neither the TSX Venture Exchange nor its Regulation Services Provider (as that term is defined in the policies of the TSX Venture Exchange) accepts responsibility for the adequacy or accuracy of this release.