Riverside exploration work
In April 2020, Riverside collected additional channel samples along the primary targets and developed a better understanding of the structural setting identifying two additional vein systems and finding surface exposures with high-grade gold. The new sampling results increase the Company's confidence in the potential for its 100% owned Los Cuarentas Project to host a near-surface, high-grade gold vein system. Drill permits have now been granted.
The recent sampling program included 31 new rock-chip samples and Riverside geologists took the opportunity to update and create a new geological map. The new assay results show continuity along the principal mineralized zones and included five high-grades gold samples (see Table 1 below).
Table 1: Top Five of 31 Gold Assay Results from Riverside's Second Sampling Program
| | | | | |
| --- | --- | --- | --- | --- |
| Sample ID | Au (g/t) | Target Zone | Sample Type | Rock Type |
| RRI-6023 | 18.00 | Santa Rosalia | rock chip | vein |
| RRI-6010 | 12.30 | Santa Rosalia Sur | float | vein/breccia |
| RRI-6014 | 7.19 | Santa Rosalia Sur | rock chip | breccia/vein |
| RRI-6012 | 2.99 | Santa Rosalia Sur | rock chip | andesite/stockwork |
| RRI-6019 | 2.29 | Santa Rosalia | float | vein/andesite |

In January, 2020 Riverside collected a total of 16 rock samples from selective areas from its first sampling program at the Project with six (6) of the samples returning greater than 5 g/t Au and up to 25.7 g/t Au and 119.7 g/t Ag (see Table 2 below). Riverside's exploration team mapped and re-sampled known historical work areas to validate the accuracy of the high-grade samples collected in the past and to initially confirm two of the primary targets; Santa Rosalia and Santa Rosalia Sur.
The results from the 16 samples collected by Riverside have been encouraging with the top six samples providing high-grade assays and a good starting point for the Company to continue to work up and further expand targets at Los Cuarentas, which includes areas around and expanding from the former mining operations and major extensive exposed undrilled vein systems.
Table 2: Six Best Gold Assay Results from Riverside's First Sampling Program at Los Cuarentas
| | | | | | |
| --- | --- | --- | --- | --- | --- |
| Sample # | Au (ppm) | Ag (ppm) | Target | Type | Rock |
| RRI-5779 | 25.7 | 4.5 | Santa Rosalia | dump | breccia |
| RRI-5782 | 10.2 | 9 | Santa Rosalia | select | andesite/veinlets |
| RRI-5789 | 6.8 | 65.1 | Santa Rosalia Sur | 1-m channel | sheeted vein |
| RRI-5784 | 6.27 | 119.7 | Santa Rosalia | float | vein/breccia |
| RRI-5780 | 5.3 | 5.6 | Santa Rosalia | rock chip | stockwork |
| RRI-5790 | 5.1 | 75 | Santa Rosalia Sur | rock chip | sheeted vein |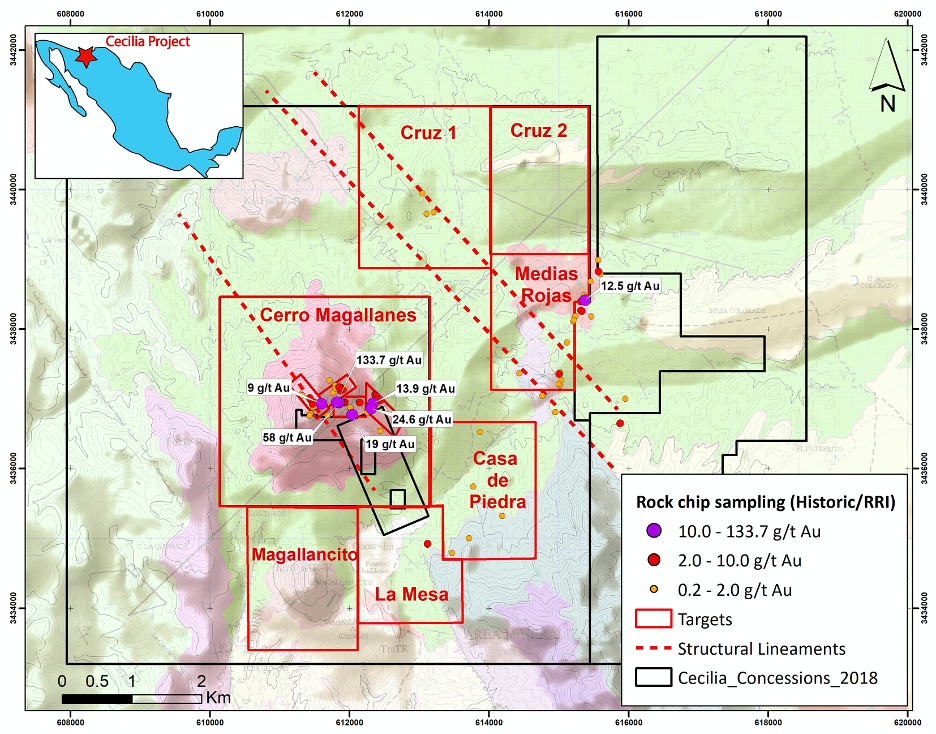 Geological map of Los Cuarentas Project highlighting the six (6) current targets
Targets:
Riverside has identified six (6) targets at the Los Cuarentas Project; the Santa Rosalia, the Santa Rosalia Sur, El Sombrero, El Sombrero Norte, El Sombrerito and Santa Rosalia Norte targets. Riverside geologists will focus their initial efforts towards the Santa Rosalia target utilizing past data to refine the target area and work program. The Company is also working on interpretations of the structural control of the high-grade ore shoots to better understand and delineate the volcanic-hosted, low sulfidation veins found on the property.
Santa Rosalia:
The Santa Rosalia target is a mineralized structural zone extending for approximately 1 km (see press release January 20, 2020) and part of the uplifted northern block. The Santa Rosalia "vein zone" is defined as multiple sub-parallel mineralized silica-infilled fractures which form veins. Those veins can be seen in structural zones which can be up to 8 m wide. The latest sampling program returned several high-grade samples that include: 18 g/t Au in a single 0.5 m wide vein, 2.3 g/t Au in quartz vein floats and 0.5 g/t Au along a 1 m channel sample across the entrance of an adit. Additional observations at Santa Rosalia show shallow, hydrothermal textures such as chalcedony quartz, suggesting most of the system has been preserved and likely extends to depth.
Santa Rosalia Sur:
Similar to the Santa Rosalia target, the Santa Rosalia Sur target is part of the uplifted northern block. The latest mapping and sampling program highlighted and confirmed the presence of high-grade gold up to 14.8 g/t Au in hydrothermal breccia that extends 200 meters along strike. Laterally, the stockwork bordering the hydrothermal breccia returned 3 g/t Au. As previously described in the press release of January 20, 2020, the mineralized zone is affected by post-mineral faulting to the north, west and south. Although the mineralized bedrock has been dropped-down to the south, the alteration and lower grade gold (1-3 g/t) mineralization can still be traced for an additional 800 meters to the south along trend.
El Sombrero:
El Sombrero target can be defined as a northwest oriented zone of hydrothermally altered package of volcanic rocks. High temperature alteration mineralogy as well as extensive silicification are primarily located along the El Sombrero structure and extend approximately 10 meters on each side of the fault (see Figure 5 in Diagrams). This observation makes El Sombrero a priority for deeper testing as it is identified as a possible feeder structure.
El Sombrero Norte:
El Sombrero target is mostly covered by post-mineral andesite, windows in the andesite show hydrothermal alteration as well as silicified rhyolite dikes indicating that historical samples were taken along a structural feature. This structure is defined as a parallel splay of the Mine fault, which is the main host for the Santa Rosalia high-grade mineralization. Historical samples from Millrock's 2017 sampling program returned the highest grade on the property 29.4 g/t Au and another 8.6 g/t Au.
El Sombrerito:
El Sombrerito is a new discovery that includes some old workings. Historical samples taken by Millrock in 2018 returned 16.5 g/t Au and 11 g/t Au from 0.5 m wide stacked veinlets. Riverside's geologists defined the area as a new structural target, which maybe a parallel splay in between Santa Rosalia Sur and El Sombrero.
Santa Rosalia Norte:
Approximately 450 meters to the north of Santa Rosalia additional old workings were discovered. Outcrops show steam-heated alteration mineralogy and the presence of silicified rhyolitic dikes. This area warrants more work to expand the size of the identified mineralized zone. Multiple parallel splays are likely to be found in this system, as was found at the nearby Las Chispas mine owned by SilverCrest Metals. Following their acquisition of the project SilverCrest discovered 14 additional veins, including the notable Babicanora Norte Vein, across a 1.5 km wide zone.
Follow-up work at Los Cuarentas will focus on mapping extensions of the primary targets at Santa Rosalia and Santa Rosalia Sur. Additional channel sampling across the primary mineralized zones will be conducted in addition to soil sampling grids to explore for extensions of known veins. This work will be followed up with geophysics to provide more information on the splays associated with the primary targets.