Riverside Resources and Centerra Gold Develop New High-Grade Gold Drill Targets at The Glor Project in Sonora, Mexico
September 6, 2017 – Vancouver, BC: Riverside Resources Inc. ("Riverside" or the "Company") (TSX-V: RRI), is pleased to report that geologic mapping and rock-chip sampling continues at the partner-funded Glor Gold Project (the "Project") in northwestern Sonora, Mexico. This latest phase of exploration work has yielded further encouraging results from the Puerto El Alamo ("Alamo") target area in the central part of the Project. Recently received gold assays for a batch of 75 rock-chip samples from the Alamo target area include high-grade values of 14.4 and 24.0 g/t Au. The current exploration campaign at Glor is being funded by Centerra Gold Inc. ("Centerra"), with the ultimate objective being to discover an economic deposit of orogenic gold mineralization similar to that found at Alamos Gold's El Chanate Mine located approximately 12 kilometres to the east-southeast of Glor.
The Alamo target area is located 3 kilometres southwest of the Pitaya target where Centerra recently drilled 9 diamond drill holes (1,942 meters) completed under the JV. These drill-holes tested a zone of disseminated and fracture-controlled gold mineralization hosted by andesitic volcanic rock that had been sampled in excavated trenches (see Company news releases issued on April 17 and June 19 of 2017). Geologic mapping of the Alamo target area has outlined extensive outcroppings of andesite volcanic rock similar to that found at Pitaya (see Figure 1, below) and a number of shear structures inclined at low angles to the south have been identified within the volcanic unit and in underlying sedimentary rocks. These ductile fault zones display orogenic-style rock alteration, quartz and carbonate veining and have yielded rock-chip samples that assayed up to 14.4 g/t gold across 1.0 meter. In addition, the Alamo target area is host to a number of quartz veins, typically tens of meters in length and less than 30 centimetres thick containing samples which have yielded gold grades of up to 24 g/t Au.
Riverside's President and CEO, John-Mark Staude, stated: "Riverside is pleased to be working with partner Centerra Gold to develop new high-grade gold targets at the Glor Project. We look forward to moving toward a drill decision and appreciate the rapid and collaborative efforts between Riverside and Centerra geologists. We expect to have an active fall field program at Glor and continue outlining additional targets in anticipation of potential drilling before year-end."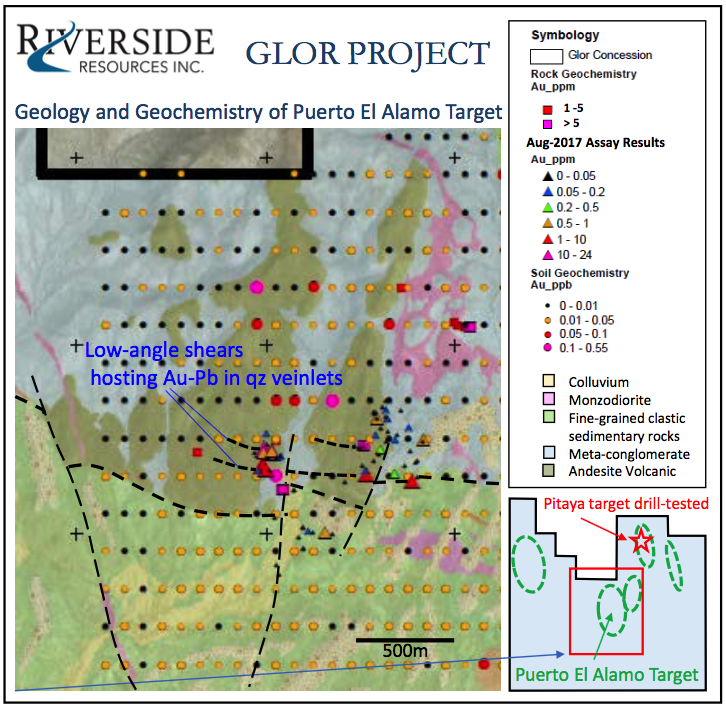 Figure 1. Geology and Geochemistry of the Puerto El Alamo Target
The mapping and rock chip sampling work currently underway is defining a new set of shallow, open-pit style drill targets at the Glor Project. The Project budget has been increased to fund the target definition work expanding from earlier high-grade gold areas found through soil sampling and reconnaissance prospecting. A planned 1,000 meters of scout drilling has been included in the budget for the fourth quarter of 2017 and is scheduled for this November. The program will most likely be carried out using cost-effective reverse circulation drilling.
Rock-Chip Sampling Details:
The locations of the recently assayed rock-chip samples are shown in Figure 1 (coloured triangular symbols) along with the locations of previously collected rock and soil samples. All but two of the reported 75 rock samples reported were chipped from bedrock outcroppings, with the sampled areas typically being 1 m2 in size. Gold assays for 11 of the samples ranged between 0.338 and 24.0 g/t Au. Two select samples of loose quartz vein rock found at old prospector workings were also taken and analysed with gold assays showing 1.16 and 4.19 g/t Au.
Qualified Person and QA/QC:
The scientific and technical data contained in this news release pertaining to the Glor Project was reviewed and prepared under the supervision of Ron Burk, P.Eng., a non-independent qualified person to Riverside Resources who is responsible for ensuring that the geologic information provided in this news release is accurate and acts as a "qualified person" under National Instrument 43-101 Standards of Disclosure for Mineral Projects.
Hermosillo and Vancouver analytical laboratories of Bureau Veritas performed the gold fire assays with atomic absorption finishes and the ICP-MS analyses for 45 common and trace elements. For quality control purposes three standard samples were included with the batch of 75 field samples that was analysed by the BV labs.
About Riverside Resources Inc.:
Riverside is a well-funded exploration company that is driven by value generation and discovery. The company has more than $5,000,000 in cash, less than 45M shares issued and a strong portfolio of gold-silver and copper assets in North America. Riverside has extensive experience and knowledge operating in Mexico and leverages its large database that has benefited from more than $15M of investment over the past decade. In addition to Riverside's own exploration spending, the Company also aims to diversify risk by securing joint-venture and spin-out partnerships to offset corporate costs and generate more discovery chances, while advancing multiple assets simultaneously. Riverside has additional properties available for option, with more information available on the Company's website at www.rivres.com.
ON BEHALF OF RIVERSIDE RESOURCES INC.
"John-Mark Staude"

Dr. John-Mark Staude, President & CEO
For additional information contact: