Riverside Receives High Grade Gold Exploration Results From Expanded Target Zones On Sugarloaf Peak Gold Project, Arizona
September 9, 2009 - Vancouver, British Columbia: Riverside Resources Inc. (TSX-V: RRI) ("Riverside" or the "Company") is pleased to announce new exploration results from its 100% controlled Sugarloaf Peak Gold Project, Arizona. The Company has been active over the summer completing drill targeting, detailed mapping, expanded geochemical sampling, and drill permitting in preparation for the fall drill program that will target higher grade gold zones on the exposed 4 km² gold anomaly near surface. New geochemistry combined with more than 2,000 historic surface gold assays acquired for the property indicate the surface expression of the gold mineralized system may, in the opinion of the Company, be more than twice the size of the original drilled area. This data has brought the project to the forefront of Riverside's portfolio and illustrates the potential for Sugarloaf Peak to become a significant low grade Jurassic gold system similar to that of the Mesquite and other active gold mines in the vicinity.
The Company is pleased to report that geochemical rock chip sampling undertaken at Sugarloaf Peak in July has confirmed the presence of higher grade mineralization in outcrops and has further extended areas of previously sampled surface mineralization. Twelve of the highest grade chip channel samples out of 200 returned assays greater than 1 g/t over 1.5m and a further four samples returned assays greater than 2 g/t over 1.5m. The highest surface chip channel assays include results of 11.83 g/t, 5.18 g/t, 2.19 g/t, and 2.13 g/t over 1.5m.
In light of the recent higher grade gold results, Riverside has better defined targets to test the large gold body* in an upcoming drill program expected to begin in the fall. Riverside has received the necessary permits to begin the drill program and will be working to build the necessary access roads and drill pads in the coming weeks.
Technical Summary
Approximately 200 rock chip samples were taken along six widely spaced traverses which crossed the Sugarloaf Peak stratigraphy and interpreted main structures. Rock chip channel samples were collected at approximately 50m spacing or where outcrop was encountered (in areas of colluvial cover). Assay results have indicated that twelve of the more than 200 samples contain greater than 1g/t over 1.5m and a further four samples contain greater than 2 g/t over 1.5m. The maximum grade of 11.83 g/t is the highest recorded rock chip sample on the property to date. The samples on the Sugarloaf Peak Gold Project show that the gold mineralization appears to be hosted by a sulphidic "welded" rhyolite tuff unit, that forms two limbs of a gently west plunging anticlinal structure. Higher grade samples appear to be associated with zones of quartz veining within this tuff unit. Major northwest shearing and echelon shear gashes concentrate higher grade mineralization similar, in the opinion of the Company, to that found at the Herradura Mine.
Pursuant to the Company's stock option plan, and subject to the TSX-V approval, the Company has granted 895,000 common shares of the Company at a price of $0.39 to certain Directors, Officers and Consultants of the Company.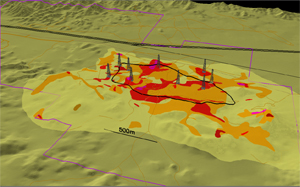 About Riverside Resources:
Riverside is well financed, with over $3,700,000 in the treasury and 21,855,080 shares outstanding. The Company operates under a joint-venture, shared-risk business model that capitalizes on the Company's technical knowledge, proprietary mineral database focused on Mexico, and vast experience in the field. Riverside is currently operating an Exploration Alliance with Kinross Gold Corporation, and has optioned three of its properties in Mexico. Riverside is predominantly active in Mexico and Arizona. Additional property information and diagrams that have been completed by Riverside's in-house exploration team can be found on the Riverside Resources Inc. website at www.rivres.com.
ON BEHALF OF RIVERSIDE RESOURCES INC.
"John-Mark Staude"
Dr. John-Mark Staude, President & CEO
For additional information contact:
John-Mark Staude,
President & CEO
Riverside Resources Inc.
This email address is being protected from spambots. You need JavaScript enabled to view it.
Phone: (778) 327-6671
Fax: (778) 327-6675
Web: www.rivres.com
Alex Mason
Corporate Communications Manager
Riverside Resources Inc.
This email address is being protected from spambots. You need JavaScript enabled to view it.
Phone: (778) 327-6671
Fax: (778) 327-6675
Web: www.rivres.com
The technical content of this news release has been prepared and supervised by H. Andrew Daniels, P. Geo who is the Company's Qualified Person (QP) under National Instrument 43-101 (NI43-101).
QA QC Procedures: The Company has implemented a quality control program to ensure best practices in sampling and analysis. Duplicates, standards and blank samples are randomly inserted into the sample stream. Samples were delivered in secure, sealed bags to Jacobs Assay Labs in Tucson, Arizona for analysis. Gold is determined by fire assay with atomic absorption finish.
*These estimates at the Sugarloaf Peak Gold Project are of historic resources and the Company's geologic team has not yet completed sufficient work to confirm a NI 43-101 compliant resource. Therefore, the estimates cannot, and should not be relied upon. The Sugarloaf Peak historical, non-43-101 compliant resource estimate was reported in N.R. Dausinger Jr, 1983 and N.R. Dausinger Jr., 1987 using a polygonal estimate of all drill holes that had gold assays and there have been no subsequent resource estimations. Dausingers' reports are included in Goldsmith, 2008, 43-101 Technical Report on the Sugarloaf Peak project. The report describes a number of historic non-NI 43-101 compliant resource estimations including 100 million tons at ~ 0.5 g/t gold average grade for a total of 1.5 million ounces gold from shallow drilling averaging less than 130m depth. A more recent report describes a higher grade historic, non-NI 43-101 compliant, estimated resource of 60 million tons of ~ 0.6 g/t average grade for a total of 1.2 million ounces gold with mineralization open to depth and along strike. The historic estimates appear reliable based on the data available at the time and are relevant for the volume of mineralization drilled at that time. Additional drilling that was completed subsequent to N.R. Dausinger Jr., 1987 and prior to 43-101 procedures has not been taken into account as there are no rock sample material remains, and no attempt been made to calculate a new resource estimation. Designer's estimation is at the inferred resource level of certainty and includes tons, cut-off grade, average grade at various levels which is consistent with the CIM definitions. This historic resource estimation along with other estimations is summarized in the NI 43-101 technical report which is filed on www.sedar.com.
Certain statements in this press release may be considered forward-looking information, which statements can be identified by the use of forward looking terminology (e.g., "expect","estimates", "intends", "anticipates", "believes", "plans"). Such information involves known and unknown risks -- including the availability of funds, the results of financing and exploration activities, the interpretation of exploration results and other geological data, or unanticipated costs and expenses and other risks identified by Riverside in its public securities filings that may cause actual events to differ materially from current expectations. Readers are cautioned not to place undue reliance on these forward-looking statements, which speak only as of the date of this press release.
The TSX Venture Exchange does not accept responsibility for the adequacy or accuracy of this release.