Riverside Resources provides investors with upside exposure with limited downside risk, through portfolio of high-quality mineral assets and a strong balance sheet.
Riverside Resources is a cash-rich and debt-free junior mining company with over C$6 million in cash (no warrants), focusing on value creation through royalty assets in copper, gold, silver, and Critical Metals. Operating in mining-friendly jurisdictions like Canada and Mexico, Riverside invites investors to join their mineral exploration journey and share in the upside of mineral discovery.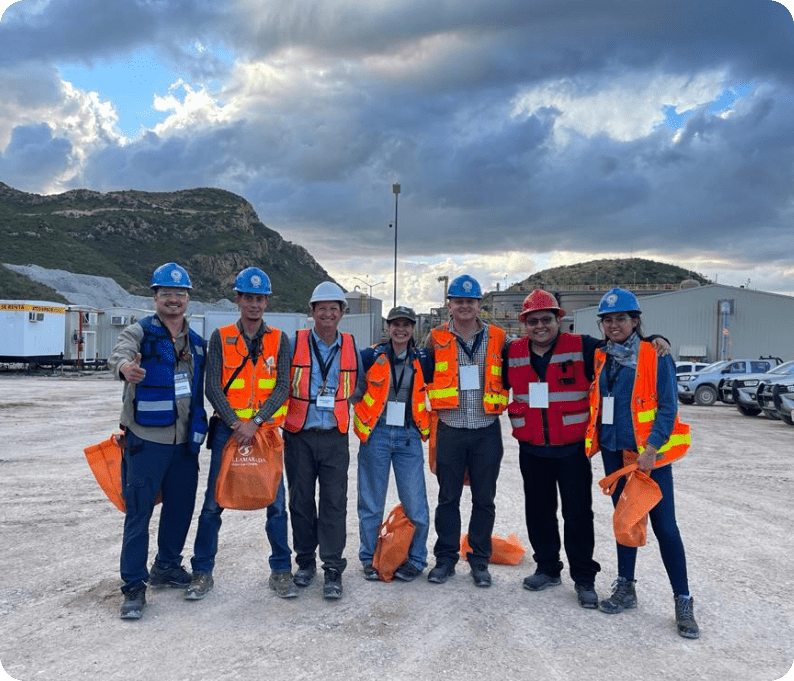 Riverside Resources Share structure and key shareholders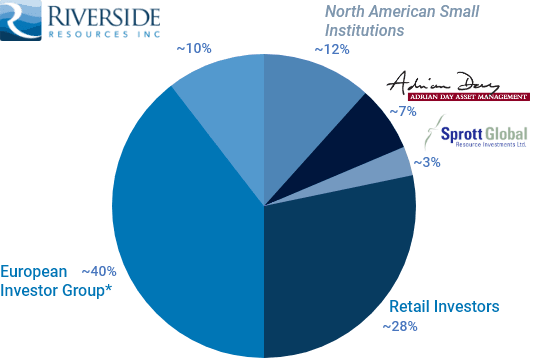 Major Shareholders Own ~70% Of Outstanding Shares
Issued (since IPO in 2007)
Options
Fully Diluted
Cash
52 Week Hi-Lo
Market Cap
74,448,464
4,060,000
78,508,464
+C$7,000,000
C$0.20 - C$0.10
~C$10M
3 Pronged Corporate Strategy
Riverside follows a three-pronged corporate strategy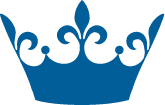 ROYALTY PORTFOLIIO
The Royalty Portfolio aims to generate value through royalty generation and deals on the RRI portfolio, including royalty on Tajitos Gold Deposit and other valuable assets.

GENERATIVE QUALITY PORTFOLION
The portfolio diversifies geographies in North America, focusing on Canada, with Ontario and British Columbia being the top two provinces for Riverside and among the best in North America. Commodities include copper, gold, silver, and critical metals.

Ontario Portfolio
Ontario Portfolio includes the Oakes, Pichete, Duc, and Pickle projects with high grade gold, large targets and past drilling that now can be expanded with further exploration on the 100% Riverside owned properties. This portfolio can potentially in the future generate more royalties as recently Riverside created 3 new royalties in its sale of the High Lake Greenstone Gold portfolio.
ROYALTY PORTFOLIO
| Project | Partner | Country | NSR | Commodity |
| --- | --- | --- | --- | --- |
| Sugarloaf Peak | Arizona Metals Corp | USA | 2% | Gold, copper |
| Tajitos | Fresnillo PLC. | Mexico | 2% | Gold |
| Capitan | Capitan Mining | Mexico | 1% | Silver, copper |
| High Lake Greenstone | Golden Retriever | Canada | 2% | Gold |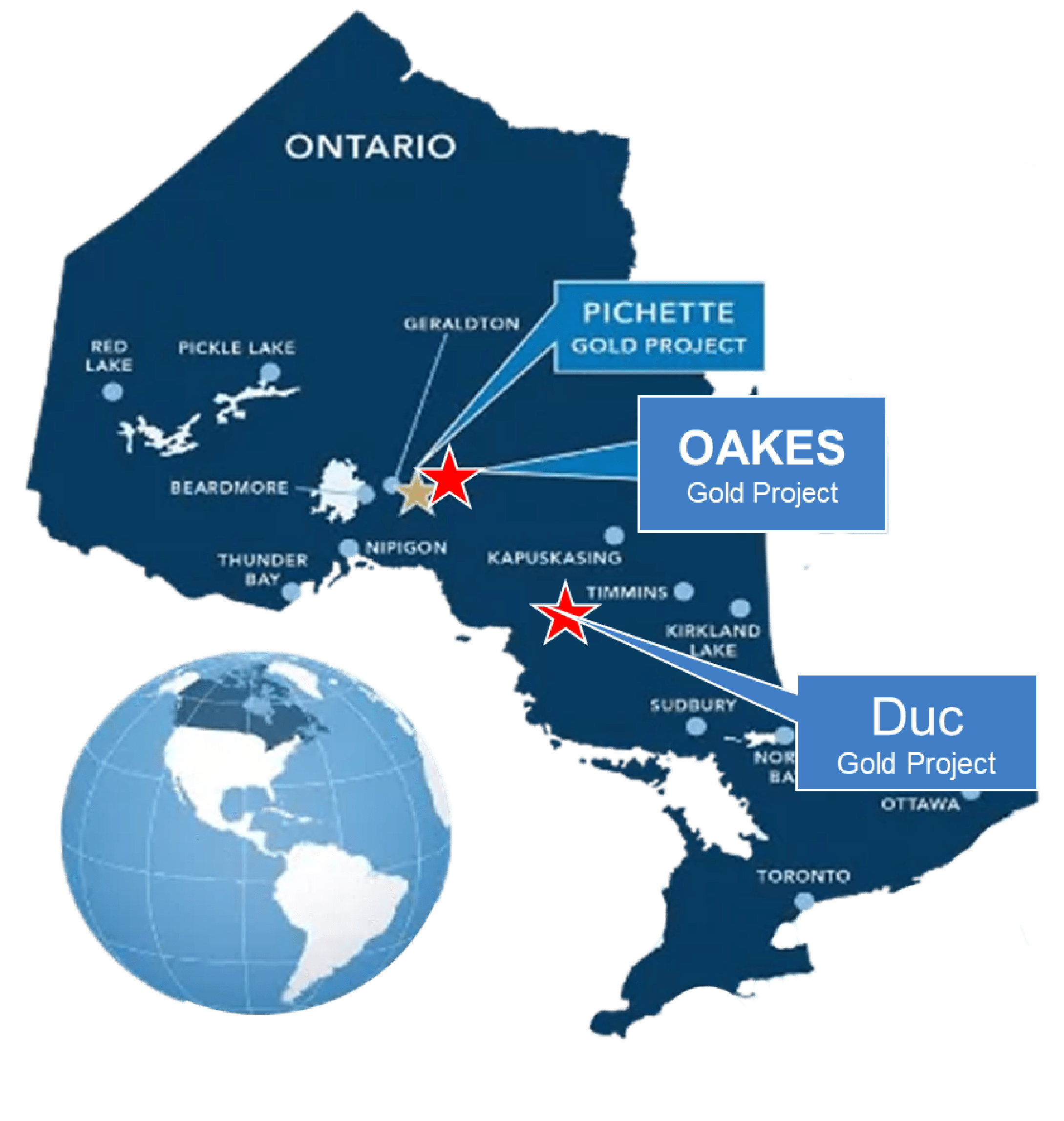 3 KEY ASSETS
Riverside follows a three-pronged corporate strategy:
ROYALTY PORTFOLIO

Geology and mineralization like Hardrock Mine complex
Sizeable property package of 5,680 hectares in the GGB
8 Km long shear with 3 parallel zones, large scale, assays up to 32 g/t gold
100% owned by Riverside & recent 12-hole, 1,700m drill program, 70% with gold intercepts

PICHETTE GOLD PROJECT

High-grade gold, over 1oz/t gold in historic drilling
Like Leitch Mine is less than 15km away and operated production levels >1 oz/t Au mine produced 800,000 oz Au
Near the Northern Empire Mill with existing infrastructure
Past drilling defined body and current programs expanding

DUC GOLD PROJECT

High-grade gold and large district-scale structures with close proximity to neighboring mine
Geophysics surveys and previous drilling have identified gold, paving the way for continued drilling
The Duc project is situated directly west of former phosphate open pit mines that contain REE and critical metals.
Why Rare Earth Elements (Critical Metals) in Canada and the Timeliness:
Canada stands as a significant supplier of rare earth elements (REEs) in North America.
The province of British Columbia (BC) is a central area of focus for REE exploration and development.
These REEs are indispensable in various technologies, including electric vehicles, wind turbines, and smartphones.
Presently, China dominates the global REE production, accounting for approximately 90%.
Mining firms are actively seeking new REE sources worldwide.
Looking ahead, there is a strategic vision to expand and augment high-quality generative portfolios, extending from Mexico, through Ontario, and into British Columbia, Canada.
BC plays a major role as a North American hub for carbonatites, which are the primary source of REEs for China.
This positioning grants Canada and North America a reliable REE source that isn't dependent on China, ensuring locally sourced metals.
Southern BC offers an advantageous environment for REE development, with convenient travel distances, existing infrastructure, and the capacity for swift development of critical metals for resource and production.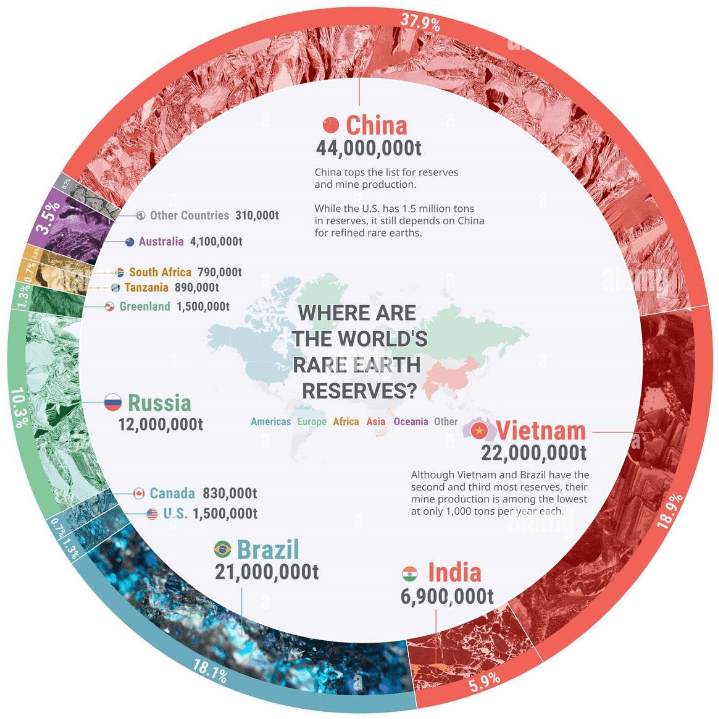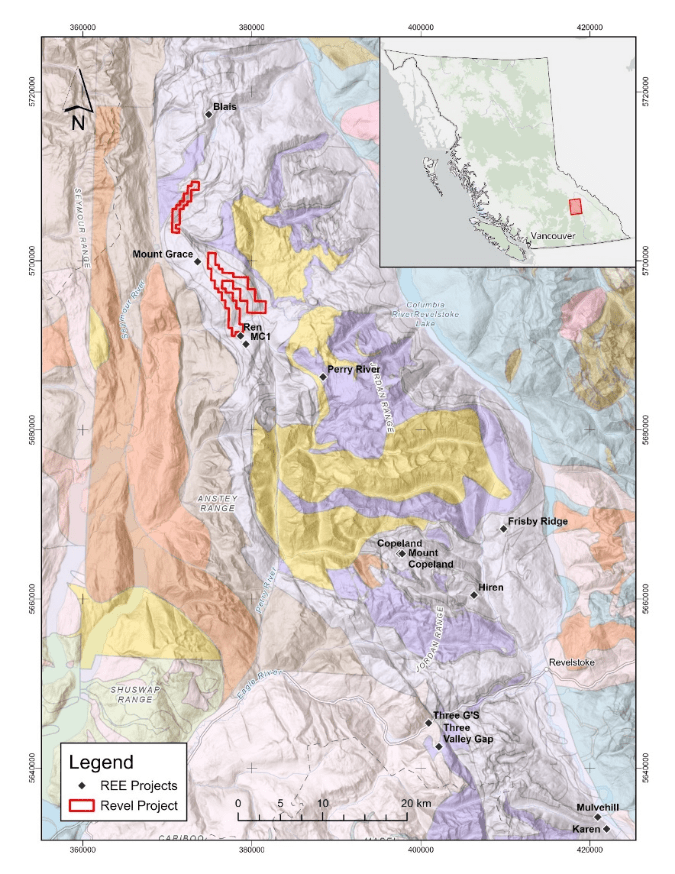 Figure 1. Regional location map of the Mount Grace Carbonatite and other REE locations superimposed on geologic quadrangle map from Hoy and Kwong (1986).
REVEL PROJECT
Commodity: Rare Earth Elements
LOCATION: British Columbia,
CanadaSIZE: 2538 ha. (25 Km2)
The Revel Project is located 20 km from the community of Seymour Arm within a highly prospective carbonatite belt north of Revelstoke, BC. The Project is 100% owned by Riverside with no underlying royalties or encumbrances. Access for mineral exploration is conducted from logging roads tied into secondary road access and generally accessible making the exploration cost effective as Riverside builds upon earlier exploration work and REE results.
The claims are partly located on Mount Grace on the northeast margin of Frenchman Cap Gneiss Dome comprising part of the Shuswap Metamorphic Terrain. These core gneisses are overlain by allochthonous cover rocks which host both extrusive and intrusive carbonatites and are part of the Monashee cover sequence. The property is centered on the Mount Grace syncline which is a northwest trending isoclinal fold. The regional map shows the Revel claim areas in the regional context with other known REE locations as part of a north-south trending belt where the Company has been working.
Why Invest with Riverside Resources now?
Riverside Resources is focused on several key areas and initiatives, including:
Portfolio Expansion in British Columbia:

Acquiring low-cost, high-value projects in Western Canada.

Upcoming Results and Discoveries:

Expecting new results from programs and property development.
Potential discoveries in precious and critical metals.
Like the Elly Gold Project in southern British Columbia.

Value Unlocking of Ontario Gold Portfolio:

Integrating recent technical work and completing technical reports.
Identifying funding and management to maximize value.

Royalty Assets:

Holding royalty assets with potential engagement in value catalyst steps.
Riverside has a 2% NSR on Tajitos and Tejo mineral concessions.
With Fresnillo progressing their Tajitos mine.

Exploration and Partnerships:

Exploring strategic partnership opportunities.
Collaborating in joint ventures and spin-outs.

Financial Prudence and Value Generation:

Maintaining financial strength with over $7 million in cash and no debt.
Ensuring prudent financial management and sustainable exploration programs.
Riverside Resources is actively pursuing these initiatives to create value for its shareholders.
Management Team:
Our highly experienced team is well balanced, we bring a healthy mix of technical experts along with business and capital markets expertise
John-Mark Staude, President & CEO:

Mr. Staude earned a Masters of Science from Harvard University in 1989 and a Ph.D. in economic geology from the University of Arizona in 1995.

Freeman Smith, VP Exploration:

Mr. Smith has 19 years of professional experience in the resource industry working with Oro Gold, BCGold Corp and Goldplay Explorations.

Julian Manco, Principal Geologist:

Mr. Manco completed MS at MDRI UBC Vancouver and has worked with majors and junior companies on a range of deposit types being involved with discoveries in Colombia and Mexico.

Robert Scott, CFO:

Mr. Scott has over 17 years of professional experience in the areas of corporate finance, accounting, and merchant and commercial banking. He is a C.A., a CFA Charterholder and earned a B.Sc. from the University of British Columbia.